Project Details

Back to Projects
2005-2006
Donagh Regional
Donagh
Contact person: Lynn Coady
Artist(s) involved: David Weale, Terry Dunton Stevenson
Project Title: United We Stand

The students created a large mural based on "Three Tall Trees" by David
Weale. The mural represents the unity and diversity of the school. The
project began with a school assembly featuring the reading of David
Weale's book, "Three Tall Trees", as well as introducing and explaining
how the project would unfold.

Teachers had an opportunity to meet with the artist to familiarize
themselves and to have any questions answered before students became
actively involved.

Students had the opportunity to work with Terry Dutton-Stevenson to
complete their individualized leaf (Grades 1-3: sponge painted recycled
boxes; Grades 4-6: paper-mâché; Grades 7-9: tooled leather and polymer
clay).


After a donation of scaffolding from a member of the community, the tree was assembled by the entire staff.
ArtsSmarts quotes

"I had fun doing this ArtsSmarts project."
"This ArtsSmarts project was really fun. We got to work with many different tools and many different fabrics. I think that this will be a nice tree when it is done."
"I really liked doing this project. It was so much fun. I love doing paper-mâché. It is so cool. I want to do it again! It was awesome, fun, cool. Wicked, funny, the best. It was the funnest activity of the year. Thank you."
Artist(s) quotes

The enthusiasm was contagious and some of the teachers continued to explore the medium that they were introduced to with their students. If it inspires, it is successful!
Quotes from parents/teachers

"I think that a project like this is fabulous. The children who are taking part will have the honor to talk about this for a long time and always see and remember the great work that was created. It is wonderful because everyone can participate in the creation of a beautiful project."
"I feel that any kind of art program/project should be strongly encouraged to inspire students and develop team work."
"Excellent program, kids were interested. Creative, original, would be great to do again sometimes."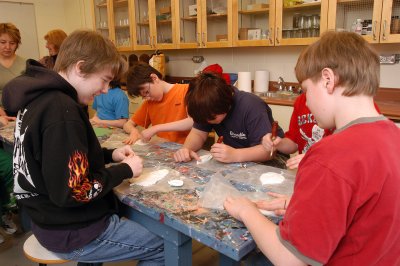 Génie Arts Smarts
Open your mind and learn through the arts Teachers and
artist bringing learning to life through culture and the arts.