Project Details

Back to Projects
2005-2006
Sherwood Elementary
Charlottetown
Contact person: Lise Morin
Artist(s) involved: Susana Rutherford, Kathy Kroliskowski and Lucie Bellemare
Project Title: Mosaic in Motion

The students created 50 tiles using mosaic techniques reflecting the
Island flora, fauna and landscape.Through a creative process with local
artists the student explored their own creative potential. They deepened
their understanding of their own environment by researching the fauna
and flora.
ArtsSmarts quotes

"The ArtsSmarts program was great. It's fun, educational and overall a great program. I recommend it to children, parents and friends of all ages. Artists were glad to help and I'm happy with my results."
"I really enjoyed the experience of doing mosaics with artists."
"I thought the ArtsSmarts project was really fun. I'm proud of how good it turned out."
"I loved this art project, it was so interesting. I did a bunting bird with my partner. It was so much fun!"
"I think it was really fun. If you could do so, think what would it be. I did a lady slipper and I'm glad we did it. I really liked it. It is my favorite art project so far."
Artist(s) quotes

"I believe strongly in the power of art to develop creative thinking and innovation in Canadians."
Quotes from parents/teachers

"Students really enjoyed brainstorming and producing their own ideas."
" The art work is beautiful and I believe the children not only learned but had an enjoyable experience as well. They were quite proud of their accomplishments!"
"Great project idea! Love to see more ideas like this!"
"It was a very positive experience."
"It's nice to see an extension of art and the development of creativity going beyond what is normally taught. I believe it helps to broaden a child's mind and it takes them away from just daily routine."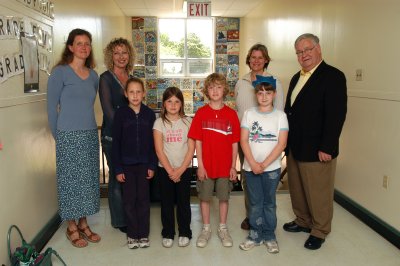 Génie Arts Smarts
Open your mind and learn through the arts Teachers and
artist bringing learning to life through culture and the arts.