Project Details

Back to Projects
2005-2006
Elm Street Elementary
Summerside
Contact person: Marie-Anne Roy, Elizabeth Blake and Carolyn Rowe-Turner
Artist(s) involved: Alanna Jenkov
Project Title: Picture School Culture

The students created a photo exhibit titled "Picture School Culture".
It featured 75 black and white photos and captions by students. Each
student showcased one matted photo with a journal entry explaining the
significance of his/her photo selection.

Each student kept a personal journal describing his/her personal growth,
feelings and understanding of photography theory and of the project
throughout the whole process.
ArtsSmarts quotes

"My experience with ArtsSmarts was fun and we got to do and learn lots of stuff. And we all got our own cameras that we got to use all around school and it was fun writing about our favorite pictures we took."
"We had a lot a fun taking pictures. I learned how to take pictures with a real camera. I had the chance to work with a real photographer."
"It was nice to be able to take a really better picture. And it was fun working with an artist."
"I really like the ArtsSmarts project. I would recommend your class to do this project. It would be a really good experience for your class."
Quotes from parents/teachers

"The students enjoyed the project. They had a great time with Alanna."
" What a wonderful opportunity for kids to express their learning through the arts."
"What a great way to increase self-confidence and learn new things."
"Great opportunity for children to broaden their knowledge of culture and arts."
"I enjoyed seeing the display of art at Eptek. The kids did a great job. I believe they enjoyed the chance to do such project."
"This project was very unique for the children to participate in. It would certainly encourage the school to indulge in all types of art forms for children to learn new skills and try out their very creative minds."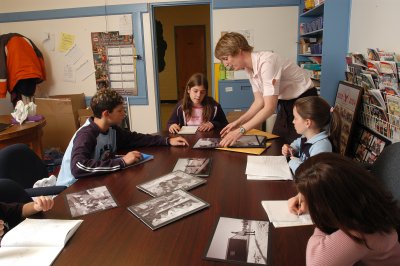 Génie Arts Smarts
Open your mind and learn through the arts Teachers and
artist bringing learning to life through culture and the arts.