Project Details

Back to Projects
2005-2006
Stonepark Intermediate
Charlottetown
Contact person: Helen Smith-MacPhail
Artist(s) involved: Debra Janes Percival
Project Title: Aluminum Etching

The students etched an aluminum plate to create a sketch which they then
transferred to paper. Each grade nine class spent a morning with the
artist. The finished artwork was displayed in the school library from
April 3rd to April 6th, 2006. The project was displayed at the Confederation Centre of the Arts Gallery from May 15th to June 5th, 2006.
ArtsSmarts quotes

"Our school took part in a program called ArtsSmarts, it was a really fun program we learned a lot of different things, I had a lot fun."
"It was really fun and interesting."
"I think it was good working with etching paints, paper, and different stuff, using chemicals in the water and making the picture."
Quotes from parents/teachers

"Really well done! A wonderful learning opportunity."
"It's always great for everyone to try something new."
"I think it is a good idea to introduce the students to new art forms."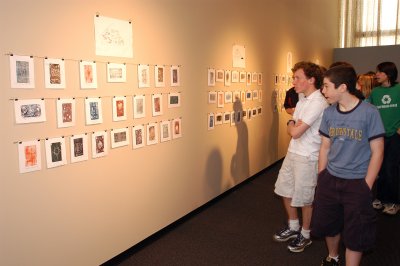 Génie Arts Smarts
Open your mind and learn through the arts Teachers and
artist bringing learning to life through culture and the arts.