Project Details

Back to Projects
2005-2006
East Wiltshire Intermediate
East Wiltshire
Contact person: Jody MacDonald
Artist(s) involved: Karen MacPhee
Project Title: Luncheon at William H. Pope's

The students studied and researched the delegates of the Charlottetown
Conference in 1864. They wrote speeches and prepared dialogues as if
they were Fathers and Mothers of Confederation. They also studied,
designed, and sewed two heritage costumes. In September students were
introduced to the building of Confederation. They researched how each of
the British North America colonies could benefit from joining
Confederation, and why the colony believed Confederation would do more
harm then good.

Each male student was assigned a delegates name that did indeed attend
the Charlottetown Conference. The female students were teamed with a
male student. They worked together as a "husband" and "wife" team to
find biographical information on their characters.

The students were to create two costumes to wear to a luncheon they would host at Ardgowan (home of William H. Pope).

They learned some interesting facts on fashion design and the evolution of fashion during the Victorian Age.
Quotes from parents/teachers

"One of the best students for sewing was a boy who struggles with academics. He was so proud of himself when he finished this project. He believes costume design is something he wants to consider for a career. I was proud of him and all my students."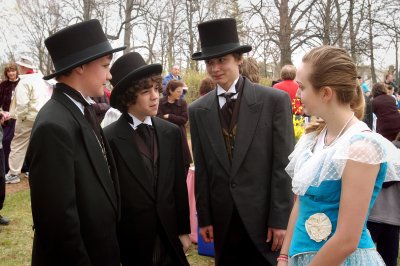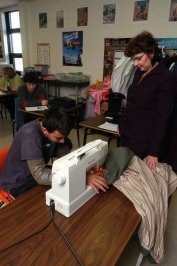 Génie Arts Smarts
Open your mind and learn through the arts Teachers and
artist bringing learning to life through culture and the arts.