Project Details

Back to Projects
2005-2006
École Évangéline: Second Project
Évangéline region
Contact person: Gilles Arsenault
Artist(s) involved: Lucie Bellemare
Project Title: Réseau de concepts animé (ou vivant)

Students created three-dimensional murals that reflect Canadian
multiculturalism. They had the opportunity to do plastic art, music and
five paintings using different art techniques. Amongst others, they
worked with plaster of Paris, paint, ink and a Paper Tole technique.
In this project, two humanities courses learning objectives were
integrated : 12th grade sociology and 10th grade Canadian history.
ArtsSmarts quotes

"It was fun!"
"Great experience."
"To be done again – wow!"
Quotes from parents/teachers

"Beautiful project!"
"Congratulations! Keep up the good work."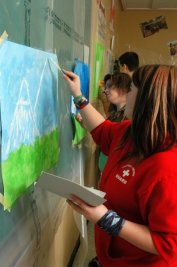 Génie Arts Smarts
Open your mind and learn through the arts Teachers and
artist bringing learning to life through culture and the arts.