Project Details

Back to Projects
2005-2006
West Royalty Elementary: Second Project
Charlottetown
Contact person: Donnalee Downe
Artist(s) involved: Filla Marshall
Project Title: Cube Connections

The project was an exhibition of three-dimensional geometric figures
created and painted by students. As part of the project grade five
students in three classrooms planned and eventually created large format
geometric nets painted with images evoked by the overall shape of the
selected canvas.

Students explored colour theory and engaged in large format puzzle making using the eighty-plus canvases created by students.

This large scale tessellation was a highly effective representation of
how complex figures can tessellate. This project were mounted at the
Confederation Centre of the Arts in May 2006.
ArtsSmarts quotes

"ArtsSmarts was really fun and it helped me be more creative."
"It's better to learn hands-on."
"It was really fun and I would really enjoy doing a second time."
"It was fun, we learned about nets and cubes by doing art."
"I really liked painting, drawing and learning about different stuff, it's awesome."
"It was really cool to work with an artist."
"This project helped me to learn about art and different subjects."
"I had a really fun time doing this project because I had never done any art project with an artist before."
Artist(s) quotes

Children benefit enormously form creatively approaching what otherwise may be "dry" curriculum.
Quotes from parents/teachers

"I strongly agree that a lot of kids learn better using hands-on."
"I loved the final product and my child spoke a lot about her cube."
"Great initiative!"
"These type of programs are wonderful. Great to encourage creative thinking."
"Since starting this project, my son has shown more interest in Art at home."
"The students are far more aware of "outcomes" of the geometry unit and seemed more able to identify situations in the ArtsSmarts cube connection "Unit" then when they demonstrated their geometry skills."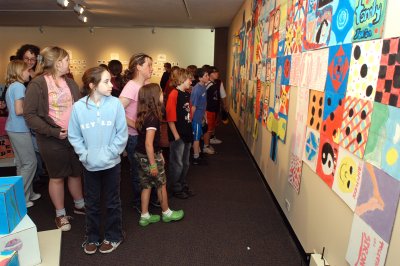 Génie Arts Smarts
Open your mind and learn through the arts Teachers and
artist bringing learning to life through culture and the arts.