Project Details

Back to Projects
2006-2007
Ecole Évangéline: First project
Évangéline region
Contact person: Denise Millett-Caissie
Artist(s) involved: Anne Gallant
Project Title: Les gens de par chez nous

Students published a book that described the lifestyle of the Acadians
of years gone by and compared this to today's lifestyles. Students
sketched drawings and developed the text as part of their research.
Multiple outcomes are included in this project through Arts, Science and
French.


Students had to collect information and interview the people they had
chosen for their project. They also had the opportunity to visit the
Musée acadien in Miscouche, and learn drawing and painting techniques.
ArtsSmarts quotes

"It was fun and I learnt how to draw. And now, I know how to draw and paint!"
"I got to know people who had an impact on the lifestyle."
"I made a story on Acadian heros."
"I felt that this project was really interesting and I had a lot of fun."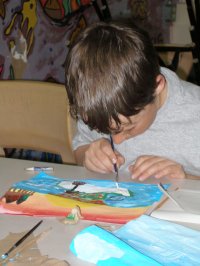 Génie Arts Smarts
Open your mind and learn through the arts Teachers and
artist bringing learning to life through culture and the arts.