Project Details

Back to Projects
2006-2007
Ecole Évangéline: Third project
Évangéline region
Contact person: Velma Durant
Artist(s) involved: Sylvie Toupin
Project Title: Cirque des étoiles

This project involved the presentation of a rhythmic dance with music presented by the students.


Multiple outcomes are included in this project: Physical Education and Music.

The show was divided in two acts to allow all students to play two roles. These roles were musician, and dancer or gymnast.

The students had to create puzzle pieces to write a final song including
a chorus and many verses. Also, they created gymnastics movements to
make a class choreography. While one class was practicing at the gym,
the other class was practicing the singing and musical numbers in the
music room. Finally, end music was added to close this beautiful little
show, which was original and really fun, both for the actors and the
spectators.
ArtsSmarts quotes

"We presented a circus to our parents and the practices were as fun as recess."
"I was happy to work on this project. It was fun."
"It was a bit hard, but with some practice it was easier."
Artist(s) quotes

"ArtsSmarts projects are always an interesting challenge, as much for the artists as for the teachers. It is stimulating work where we take up many challenges while keeping in mind the students. The biggest reward is to see these students exceed our expectations."
Quotes from parents/teachers

"Congratulations, it was a success! Good work!"
"Good work, thank you for the experience you have given to my son."
"Keep up the nice work. The final result was great!"
"The project was a real success. The children worked hard and succeeded. I like the idea that arts are part of learning."
"Thank you for the nice work. It was a delightful show."
"Congratulations, a really nice initiative. The students were really proud of themselves."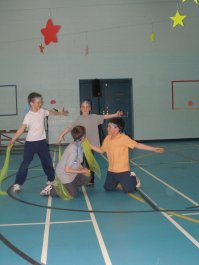 Génie Arts Smarts
Open your mind and learn through the arts Teachers and
artist bringing learning to life through culture and the arts.