Project Details

Back to Projects
2006-2007
Glen Stewart Elementary
Charlottetown
Contact person: Dianna Tutty
Artist(s) involved: Alanna Jankov
Project Title: Our Community, Our Home

Students created a large collage depicting Stratford as seen through the
eyes of the students. Students kept a scrapbook where they planned,
pasted and reflected on their choice of images.

Also, one final component of the process was a personal selection of one
photograph per student which was framed, shared and displayed during
our "celebrate exhibit". This project was bilingual in both its process
and presentation.

Multiple outcomes are included in this project through Arts, Language
Arts, Social Studies, Math and Communication and Technology.
ArtsSmarts quotes

"During the ArtsSmarts project, I learned a lot of things: how to take pictures and a whole lot more interesting stuff. I would like to do it again, it was fun!"
"I enjoyed the project because it gave us an artistic approach to have fun and learning."
"I found ArtsSmarts very different from normal school activities and I think that it would be great world wide."
"ArtsSmarts was the funest art project I ever did. It was the best. I hope we do it again next year."
Quotes from parents/teachers

"Beneficial exercise for the children."
"Great job – interesting project."
"An innovative and appropriate way for students to learn the arts and creativity."
"I think that more children should have the opportunity to participate in this project."
"I think that this program was a great idea to teach students about photography, and to discover the beauty in their community."
"A enjoyable project, but I think the students could take less pictures but write up more on each photo."
"Students gained a greater appreciation of art through photography and gained many of the objectives in the social studies program."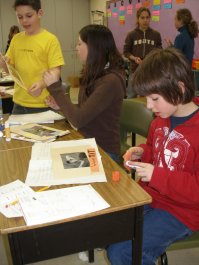 Génie Arts Smarts
Open your mind and learn through the arts Teachers and
artist bringing learning to life through culture and the arts.