Project Details

Back to Projects
2006-2007
Souris Consolidated
Souris
Contact person: Ann-Marie MacDonald and Gail MacInnis
Artist(s) involved: Debra James Percival and Gini Deveau
Project Title: Our Community

Students created aluminum relief etching projects. From these plates
they created prints. The etchings will be inspired by the student's
community.

Multiple outcomes are included in this project through Language Arts,
Science, Social Studies, Visual Arts, Math, and Health. The children
learned more about their community, past and present, and used this
knowledge as the inspiration for the picture they drew which was
representative of their community. This project also had a "hand on"
approach which would accommodate the various learning styles of our
students.

All students visited the Matthew and MacLean Museum and a local
historian came in to speak with students on topics related to the
history of Souris such as famous people from our town, historic
buildings and events.

The students participated in non-toxic print making using an aluminum
relief etching process. Students drew their picture on an aluminum plate
and the plates were etched using a copper sulphate/salt solution.
Students then used the etched plates to make their prints. The plate
were mounted in old window frames and were hung on the walls outside the
class rooms.
ArtsSmarts quotes

"During ArtsSmarts I learned a lot about our community and had a lot more fun than any other art I've even done."
"It was so fun. We drew on metal with special tools. We painted over the metal, once we soaked it in chemical and made a whole lot of prints."
"ArtsSmarts was cool, we got to learn a new way to do art. It was fun working with an artist. "
"ArtsSmarts was fun. I really liked it. I should do another ArtsSmarts if I had the chance. "
"I really enjoyed this Art. It helped me care more about Souris."
"ArtsSmarts was fun because you got to do almost everything yourself."
Quotes from parents/teachers

"Interesting and informative. Hopefully the project will be offered again!"
"Excellent project! I think it was a very worth while program. One that should continue."
"Fantastic opportunity for our students and community. Keep up the good work!"
"I like the fact that the students learned some history on our community. It was a great project for the students."
"I think it is very educational and socially encouraging to be part of a project like this. I hope it continues!"
"The students had a wonderful time with the program! Thanks so much!"
"The students really enjoyed the ArtsSmarts project. I had a great time too!"
"ArtsSmarts provided the students an opportunity to work side by side with theirs teachers in creative atmosphere."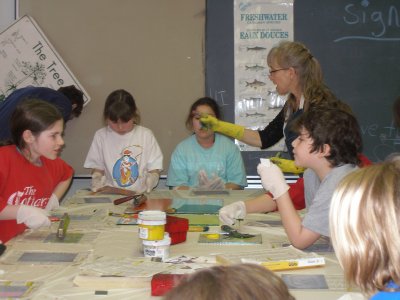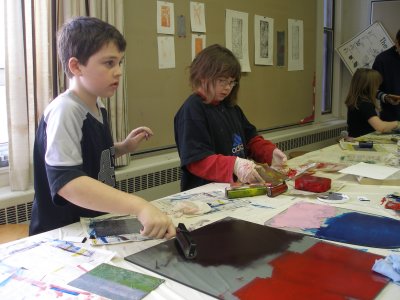 Génie Arts Smarts
Open your mind and learn through the arts Teachers and
artist bringing learning to life through culture and the arts.